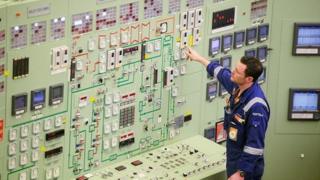 EDF to keep four UK nuclear plants open for years longer
By John Moylan
Industry correspondent, BBC News
16 February 2016
From the section Business
Image copyright
Getty Images
The energy firm EDF is to extend the life of four of its eight nuclear power plants in the UK.
The move will safeguard 2,000 jobs and help with tight energy supplies.
Heysham 1 and Hartlepool will have their life extended by five years until 2024, while Heysham 2 and Torness will see their closure dates pushed back by seven years, to 2030.
Meanwhile, EDF said its 2015 profits dropped 68% to €1.18bn mainly due to writedowns.
EDF said its decision to extend the life of its plants followed "extensive technical and safety reviews".
Chief executive Vincent de Rivaz said: "Our continuing investment, our expertise and the professional …read more
Source:: BBC UK