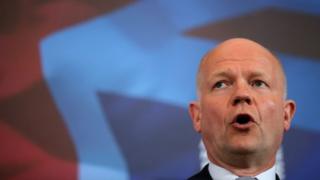 EU exit could lead to break up of UK, says Lord Hague
23 December 2015
From the section UK Politics
Image copyright
PA
Leaving the EU could lead to the break up of the UK, former Foreign Secretary Lord Hague has warned.
He also said that any "Brexit" would weaken Europe at a time of political turbulence and volatility.
Writing in Wednesday's Daily Telegraph, Lord Hague makes clear he is unlikely to join former cabinet colleagues Liam Fox and Owen Patterson in calling for a "leave" vote at the EU referendum.
The prime minister has promised to hold an in/out vote before the end of 2017.
If the UK did vote to leave the EU, Lord Hague said he believed Scottish nationalists would "jump at the chance" to re-open the independence debate, and "the result of it could well be too close to call".
'Struggling organisation'
He also said a UK departure would see the 28-member bloc lose one of its "respected military powers" and leave it weakened.
"To end up destroying …read more
Source:: BBC UK