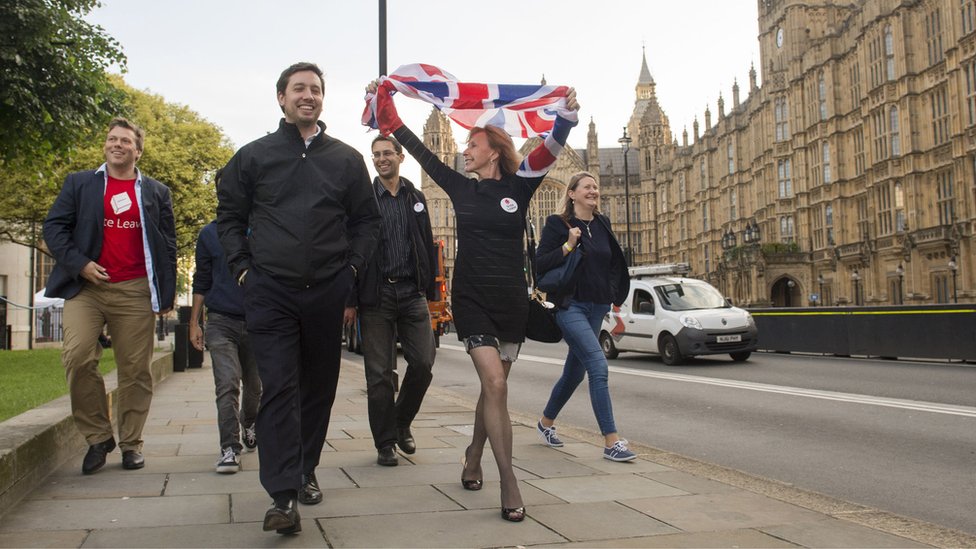 Voters in England have led the UK's way out of the European Union with more than 70% opting to leave in nine areas.
While Scotland and Northern Ireland backed staying, every English region except London voted to leave.
The England vote was 53.4% for Leave and 46.6% for Remain.
Boroughs on or near England's east coast delivered the biggest wins for Leave, with Boston in Lincolnshire recording the highest Leave percentage.
Big cities were split with Birmingham, Nottingham and Sheffield all seeing winning margins for Leave of just a few thousand.
UK votes to leave EUResults in full
Follow the developments on our live page
Boston saw 75.6% of voters back withdrawing from the EU while neighbouring South Holland backed Leave by 73.6%.
Boston and Skegness Conservative MP Matt Warman, who wanted to remain in the EU, said: "Britain has decided to gamble on Brexit – while I personally took the view that it wasn't a risk I wanted to take, I've also said it was one person one vote, and a gamble that could pay off.
"The government now has a duty to make sure exit negotiations with Europe are as painless as possible."
Leave polled 15,188,406 votes while Remain had 13,266,996 in England. The majority for Leave was 1,921,410 in England, compared with a UK-wide majority of 1,269,501.
'Roar of defiance'
The support for leaving along the east coast compares with just 21.4% in the London borough of Lambeth and 21.5% in Hackney.
Diane Abbott, Labour MP for Hackney, who campaigned for Remain, said the vote was a "a roar of defiance against the Westminster elite".
"We have to listen very carefully to what they were trying to say to us," she added.
The capital backed Remain most strongly in England.
The referendum exposed deeply divided opinion with several cities coming within a few thousand ballot papers of recording a …read more
Source:: BBC world news feed