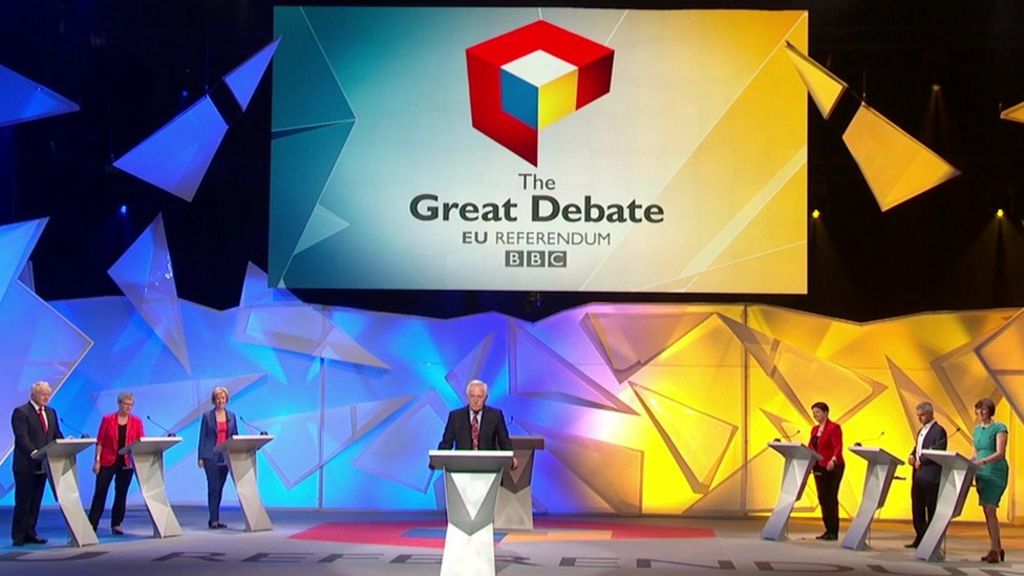 The biggest live debate of the UK's EU referendum campaign is under way at Wembley Arena.
Both sides of the debate are facing questions, starting with the economy, before a 6,000-strong audience.
The BBC's Great Debate represents a final chance for the two sides to get their points across on primetime TV before polls open on Thursday.
Panellists include Boris Johnson, for Leave, and his successor as London Mayor Sadiq Khan, for Remain.
The debate, hosted by David Dimbleby, Mishal Husain and Emily Maitlis, is live on BBC One.
Questions have been grouped into three categories: The economy, immigration and Britain's place in the world, and the audience has been split into Leave and Remain sides.
The Leave campaign is represented by Mr Johnson, Labour MP Gisela Stuart and energy minister Andrea Leadsom, and for Remain the lineup is Mr Khan, Scottish Conservative leader Ruth Davidson, and Frances O'Grady, general secretary of the Trades Union Congress.
The first skirmishes were on trade and the economy, with Conservative and Labour party colleagues trading blows.
Mr Khan and Mr Johnson clashed as the London mayor accused his predecessor of changing his mind over the benefits of the EU to businesses.
Mr Johnson said Remain "keeps talking down our country" and that the EU held back the UK's trading progress with the rest of the world.
Responding to the opening question from a small business owner, Ms Davidson said she knew people found the EU "frustrating and fussy", but said it provided "a level playing field" for small businesses. She said if the UK leaves, the rest of the EU would impose tariffs and taxes.
She read out previous quotes on job losses from key Leave figures including Mr Johnson, who hit back by saying the Remain campaign was "back to Project Fear".
He said it was "extraordinary" to suggest tariffs would be imposed …read more
Source:: BBC UK