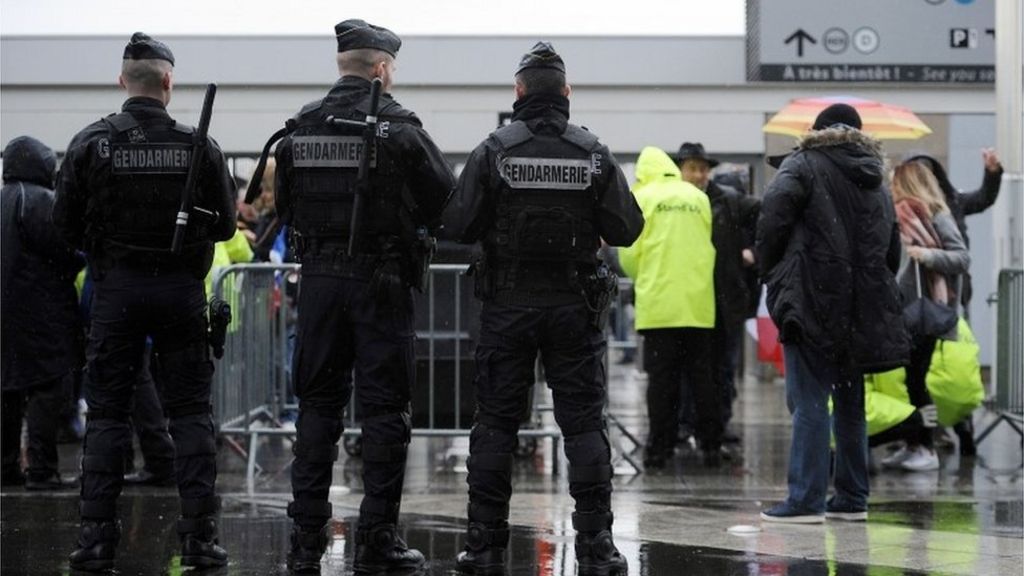 Football fans travelling to France for Euro 2016 should be "vigilant at all times" in the face of terrorism threats, the Foreign Office has said.
It said there was a "high threat from terrorism", with stadiums, fan zones and transport hubs possible targets.
UK counter-terrorism officers have been involved with security planning and a team is in France, police said.
Officers will also be stationed at Eurostar terminals and on some cross-Channel trains to prevent disruption.
It comes after officials in Ukraine revealed they had arrested a Frenchman who was apparently inspired by extremist right-wing beliefs to plot a series of attacks in his homeland after buying an arsenal of weapons in an undercover sting.
The advice from the Foreign Office was updated on Monday, although officials said this was not linked to the Ukrainian arrest.
Commander Dean Haydon, the head of Scotland Yard's anti-terror squad, said they were working with French and other police and security and intelligence agencies across the world to establish whether there was a threat to the Euros.
"We have seen propaganda, Islamic State (IS) and potential talk of plots against the Euros, but we're working with all those various different agencies to police and make the Euros a safe event and a safe games," he said.
"We're a key part of the planning.
"Although the ultimate policing of the event and the planning is for the French, we are all involved in properly trying to understand the threat, if there is one."
Targeting hooligans
Matches at Euro 2016, which begins on Friday, will be played across several stadiums including in Bordeaux, Lille and Toulouse.
There are also a string of fan zones for thousands of supporters to watch the matches – including several in London.
A police operation targeting 29 UK ports in the run-up to the tournament began on Monday, …read more
Source:: BBC UK