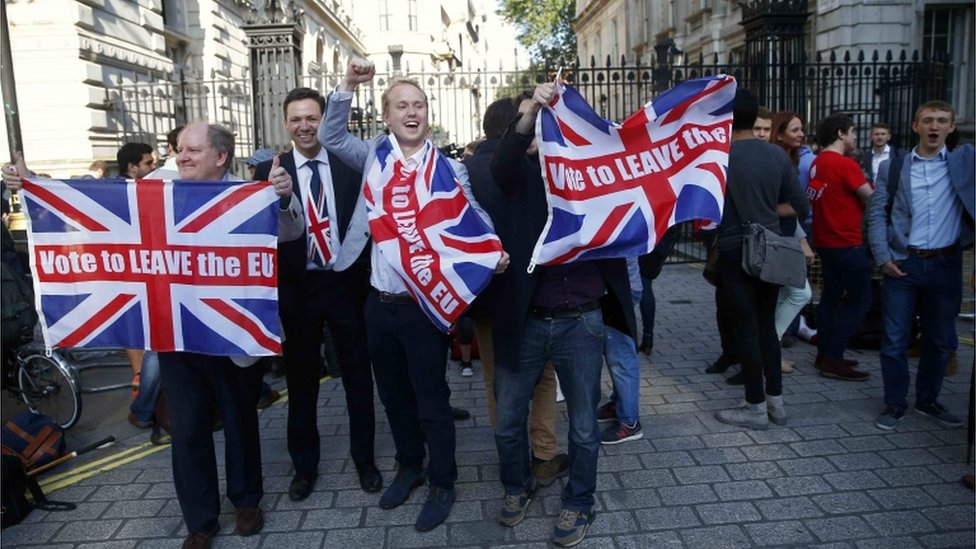 Every district in Essex has voted to leave the European Union in what Nigel Farage has called "Britain's Independence Day".
The turnout was 999,283 – more than 75% – with 62.3% voting to leave.
Castle Point and Thurrock had Essex's highest percentage of Leave voters with 72%, whilst Uttlesford had the highest remain share at 49%.
Clacton's UKIP MP, Douglas Carswell, tweeted a photo of the Vote Leave campaign office saying: "Yes we did!".
Five of the county's 18 MPs had said they wanted to remain in the EU, with the remainder saying they wanted to leave.
Follow updates on the Essex EU Referendum vote
Harlow's Conservative MP Robert Halfon said "the people had spoken", and it was a "wake-up call to do what the people want us to do".
Pro-Leave Conservative MP for Harwich and North Essex, Bernard Jenkin, said Chancellor George Osborne needed to "start being reassuring" to stablise markets following Britain's decision to leave the EU.
"The markets are responding to what the Chancellor's told them is going to be a terrible thing," Mr Jenkin said.
"He's got to change tack very quickly and say 'I was wrong, there isn't going to be an earthquake, there isn't going to be a plague of frogs' – he needs to start being reassuring, otherwise he'll be out of a job."
Labour MEP Richard Howitt, who had campaigned on behalf of Remain, said: "We have to accept that we live in a democracy and respect the rules of the game.
"I don't believe, however pro-European I may be, that could ever trump the decision of the people in an elected vote."
Source:: BBC world news feed