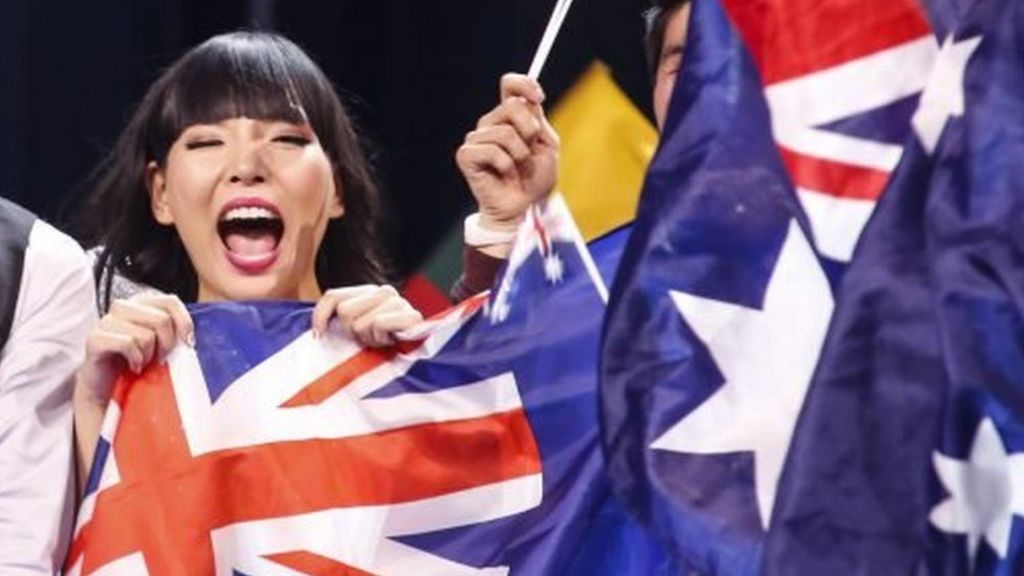 Ousted Australian PM Tony Abbott has used Ukraine's Eurovision victory to take an apparent swipe at Russia.
Russia was favoured to win Eurovision, but Ukraine's Jamala snatched a last-minute victory. Australia came second.
Mr Abbott said Australia should be prepared to accept the defeat, as Ukraine was the victim of a "bully".
In 2014, Mr Abbott famously declared that he would "shirtfront" Russian President Vladimir Putin over the downing of flight MH17 over Ukraine.
Thirty-eight Australians were among the 298 who died when MH17 crashed on 17 July 2014.
Tatar triumph
"I have a lot of goodwill for the Ukraine, I think the Ukraine has suffered a lot over the last couple of decades and I think they're currently suffering at the hands of a bully," Mr Abbott told Sky News on Sunday night when asked about Eurovision.
"So if this helps their morale I think we should be prepared to accept second place."
Australia's Dami Im won the juror's vote with 320 points to Ukraine's 211, but placed fourth in the public vote and was relegated to second place overall.
Meanwhile, there have been calls in Russia for a review of Ukraine's victory.
Russian MP Elena Drapeko blamed the loss on what she called an "information war" and "general demonisation" of her country.
But large numbers of the Russian public voted for the Ukrainian song, awarding it 10 points, while the Ukrainian public gave Russia's entry the maximum 12 points.
Let's block ads! (Why?)
Source:: BBC Entertainment