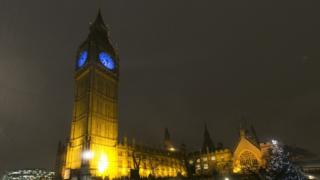 Extra firearms officers for London new year celebrations
31 December 2015
From the section UK
Image copyright
Getty Images
Image caption
About 3,000 police officers will be on duty for New Year's Eve celebrations in central London
Thousands of police, including extra firearms officers, are on duty for New Year's Eve celebrations in central London amid heightened security in Europe's capital cities.
It comes after New Year's Eve fireworks in Brussels were cancelled because of threats of an extremist attack.
Police have warned people not to attend the fireworks in central London if they do not have a ticket.
In Scotland tens of thousands are expected at Hogmanay celebrations.
Watch the New Year's …read more
Source:: BBC UK