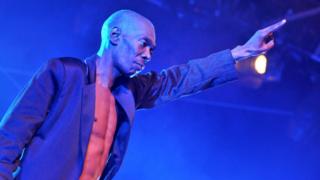 Faithless score third number one album
By Mark Savage
Music reporter
16 October 2015
From the section Entertainment & Arts
Image caption
Faithless comprise vocalist Maxi Jazz, and instrumentalists Rollo and Sister Bliss
Dance act Faithless have scored the third number one of their career, with the remix album Faithless 2.0.
It features new versions of the band's most famous tracks, including God is a DJ and Insomnia, reworked by producers like Avicii and Tiesto.
In the singles chart, Justin Bieber achieves a fifth week at number one with his hit song Where Are You Now?
There are also new entries for Olly Murs and The 1975, while The Weeknd and Jamie Lawson climbed into the top 10.
Top five UK singles1) What Do You Mean
Justin Bieber
2) Locked Away
R City ft Adam Levine
3) …read more
Source:: BBC Entertainment