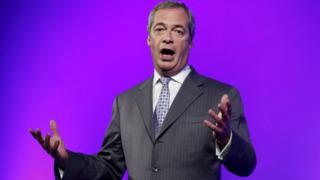 UKIP conference: Nigel Farage hails 'united' EU Out campaign
25 September 2015
From the section UK Politics
Image copyright
Reuters
The campaign to leave the EU is a "united force" and heading for an "historic" victory, Nigel Farage has told his party conference.
The UKIP leader said the in/out referendum pledged before 2018 was "the moment to put country before party".
It could be won with a "big strong, positive message", he predicted.
He also told supporters UKIP could "hold its head high" and was "alive and kicking" after the general election when it won just one seat.
UKIP had done "far more" damage to the Labour vote than the Conservatives in May, he added.
'Hand in hand'
Mr Farage hailed a "show of unity" of anti-EU groups, who have formed a group called Leave.eu to push for a UK exit.
UKIP would stand "hand in hand" with this new "umbrella group", he said, suggesting it should become the official Out campaign.
"We are together, we are united, and we …read more
Source:: BBC UK