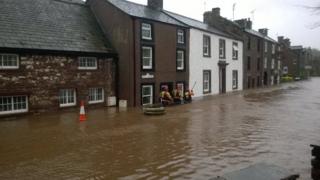 Storm Desmond: River levels set to peak as rain subsides
6 December 2015
From the section UK
Image caption
Appleby in Cumbria has seen some of the worst flooding
Flood waters are expected to reach their peak later as Storm Desmond continues to cause severe disruption across northern England and Scotland.
More than 1,000 people have been evacuated from their homes in parts of Cumbria and the Scottish Borders.
More than 50 severe flood warnings are in place with water levels expected to peak in Carlisle at around 09:15 GMT.
Rain is now moving towards south-east England and showers are expected in the North West for the rest of Sunday.
Follow live updates for Storm Desmond
BBC Travel
BBC Weather
More than 60,000 residents are without power in Lancaster, Lancashire, and large parts of Cumbria while eight rescue centres have been opened in the county as the emergency services battle against rising flood waters.
Source:: BBC UK