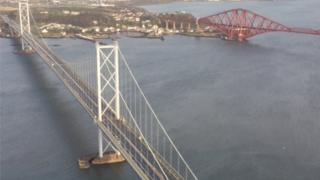 Forth Road Bridge to reopen on Wednesday
22 December 2015
From the section Edinburgh, Fife & East Scotland
Image caption
The Forth Road Bridge has been closed since 4 December
The Forth Road Bridge is to reopen on Wednesday after temporary repairs were completed ahead of schedule.
It will open at 06:00 to all traffic except HGVs.
The bridge was closed to all traffic on 4 December after a crack was discovered in a truss under the carriageway.
It will reopen almost two weeks earlier than officials had promised. They said engineers had installed a steel splint to repair the cracked truss at the north end of the bridge.
The partial opening of the bridge follows load testing, including sending lorries over the bridge in different patterns over five hours of tests on Saturday.
HGVs account for 32% of the weight the bridge normally carries despite making up …read more
Source:: BBC UK