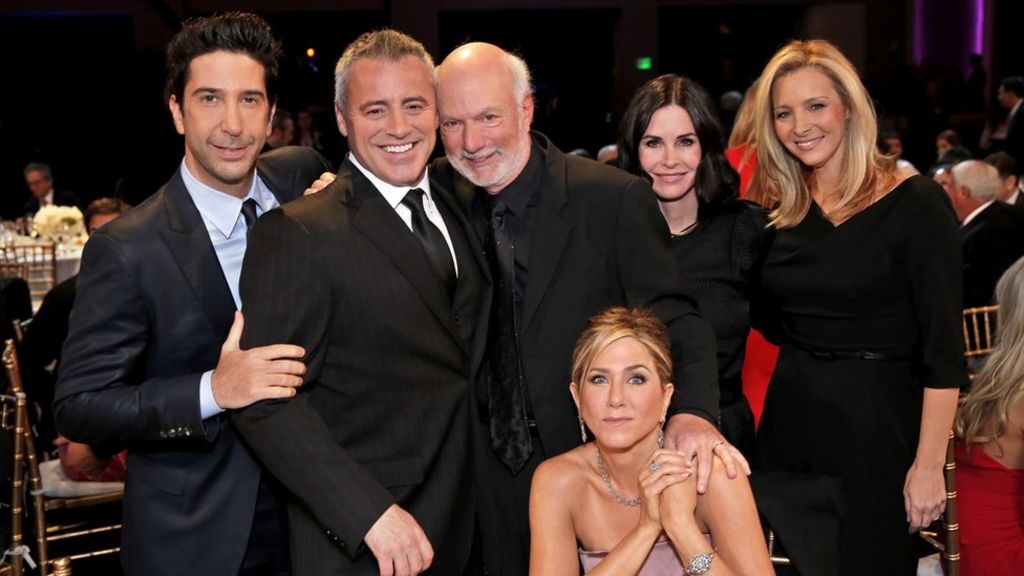 Five members of the Friends cast have finally come together in a much-anticipated Friends reunion on US TV.
The cast of the 1990s hit comedy, minus Matthew Perry, reunited on NBC's Tribute to James Burrows on Sunday.
They reminisced during the two-hour tribute that featured clips from the respected director's roster of shows.
But some Friends fans expressed disappointment, saying they had expected a new episode of the hit comedy show.
Perry, who played Chandler, did not attend the show due to rehearsals for his West End play, but did tape an introduction to his former co-stars.
We experienced friendship, family, heartbreak, babies, everything together.NBC, Jennifer Aniston
Jennifer Aniston, Courteney Cox, Lisa Kudrow, David Schwimmer and Matt LeBlanc all took part in the special.
Stars from Burrows' other shows, such as Will & Grace and Cheers, were also there.
The Friends cast started their stint on the sofa reminiscing about the many games of poker they played together off-screen, and offered titbits to host Andy Cohen about their time on the show, both on and off-screen.
Cox revealed that she, Aniston and Kudrow ate lunch together for 10 years while filming the sitcom, eating the same salad, prepared by Aniston, every day.
And they revealed they were good friends away from the studio too, with Kudrow saying "we really wanted to connect" in real life.
'We adored each other'
"At the beginning it was not a hard thing, we really just wanted to hang out with each other, it was not 'ugh we have to do this'," said Aniston.
"We just really fell in love and adored each other instantly and would hang out at each others' houses and watch the show together."
She added: "We experienced friendship, family, heartbreak, babies, everything together. And we also had a wonderful experience with the world loving us as well."
But some fans on Twitter felt …read more
Source:: BBC Entertainment