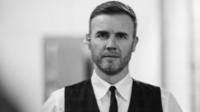 Gary Barlow "settling tax affairs ASAP"
By Chi Chi Izundu
Newsbeat entertainment reporter
2 September 2014 Last updated at 23:36
Gary Barlow has said he is working with new accountants to settle his tax affairs "ASAP".
Writing on Twitter, he apologised to any fans who were offended by stories earlier in the year on the subject.
Take That members Barlow, Howard Donald and Mark Owen and manager Jonathan Wild were among some 1,000 people involved.
They paid into schemes said to support the music industry – but a tribunal judge ruled they had actually been set up for tax avoidance purposes.
HM Revenue and Customs have said they will not "tolerate abuse of the system".
The Take That stars and their manager invested money through a company called Icebreaker.
Since March 2010, the four have been directors of Larkdale LLP – one of 50 partnerships that Icebreaker arranged to harness tax reliefs that the government had intended would support those in creative industries.