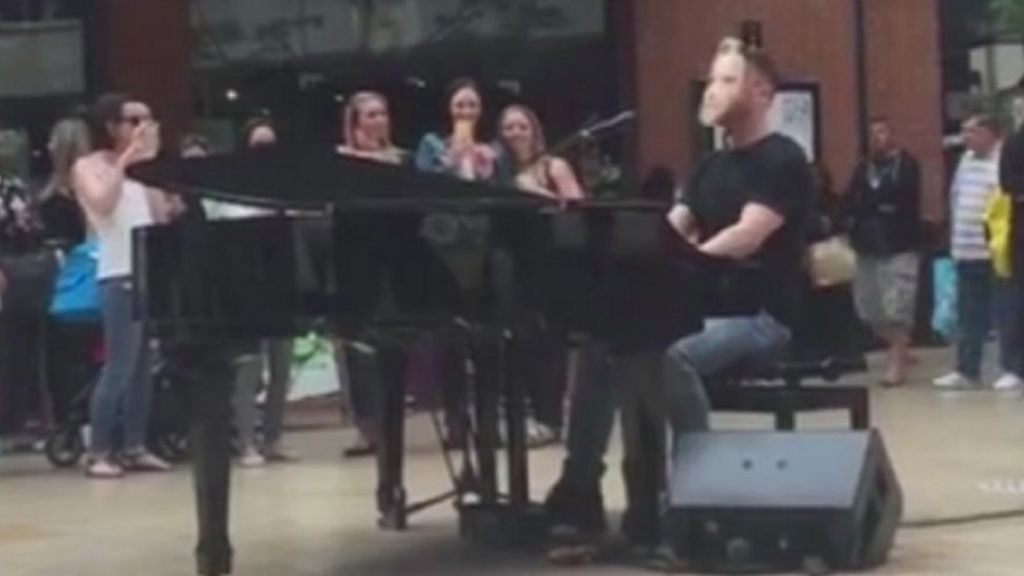 Take That star Gary Barlow surprised shoppers in Bristol with an impromptu concert – which started with him wearing a disguise… as himself.
The star wore a Gary Barlow mask as he began playing Could It Be Magic on a piano at Cabot Circus shopping centre.
Shoppers watching the mystery performer were astonished when he revealed his true identity and sang the hit song.
The 45-year-old entertainer is known for surprising fans – in 2015 he "crashed" a number of weddings.
Hundreds of people had soon gathered to watch the former X Factor judge at the city centre mall, with many posting videos and photographs of the performance on social media.
As news of the concert spread, people around the UK tweeted the star to ask him to attend weddings, birthday parties – and other shopping centres.
In 2015, Barlow promised to sing at the weddings of three fans – but went on to sing at more.
Among them was Natalie Purkis, who was stunned when the star turned up at her wedding reception in Oxfordshire at the request of her husband Martin.
Barlow later tweeted: "I'll look back fondly at 2015 as the year of the wedding crasher!"
Let's block ads! (Why?)
Source:: BBC Entertainment