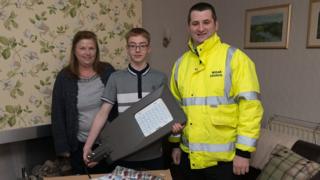 Wigan Council light up boy's Christmas with street lamp gift
18 December 2015
From the section Manchester
Image copyright
Wigan Council
Image caption
Ben said he was "speechless" when he opened the gift to find the light inside
A boy who collects street lamps has had his Christmas lit up by an unexpected present from his local council.
Ben McKenna's grandmother contacted Wigan Council to ask where she could buy the LED lights they have been installing across the area.
In a light bulb moment, the switched-on street lighting team decided to brighten Ben's day with an unusual gift – a light in Christmas wrapping paper.
The 15-year-old said receiving the lamp had left him …read more
Source:: BBC world news feed