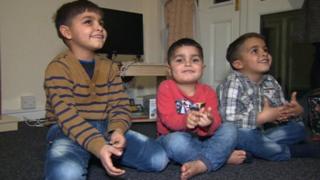 Syria crisis: UK should take in 3,000 children, say MPs
5 January 2016
From the section UK Politics
Image caption
The UK has promised to resettle 20,000 Syrian refugees by 2020
The UK should take in 3,000 child refugees stranded in Europe, as part of its humanitarian response to the Syrian conflict, MPs have said.
The International Development Committee said it backed calls from charities for the UK to accept more unaccompanied minors as a matter of "utmost urgency".
Lone children risked being forced into prostitution or the drugs trade unless given sanctuary, the MPs said.
The UK has taken 1,000 refugees so far as part of a 20,000 five-year target.
But humanitarian campaigners say this is inadequate and that refugees already in Europe should qualify for resettlement under the UK's Vulnerable Persons Relocation (VPR) scheme, which is currently restricted to those in refugee camps in Syria and neighbouring countries.
Source:: BBC UK