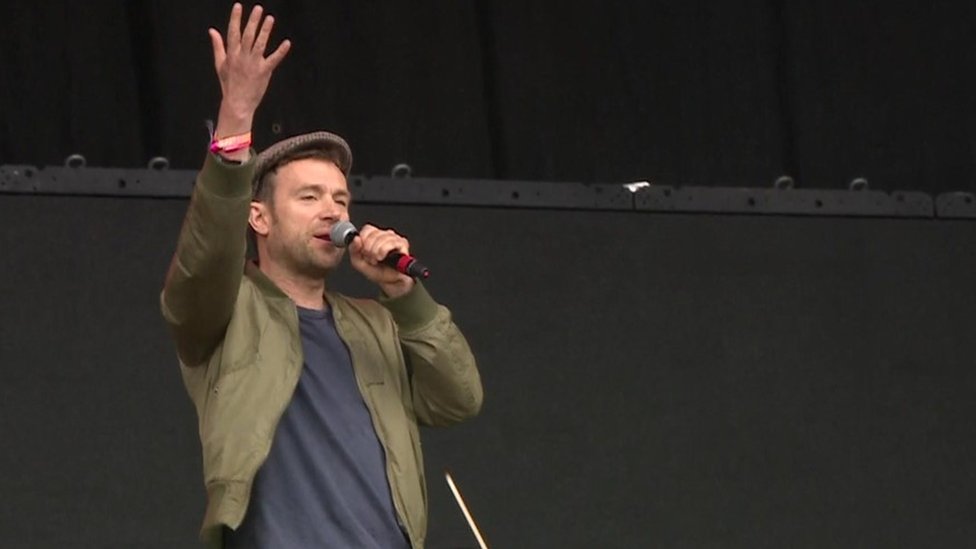 The Glastonbury Festival has opened with a sombre tribute to MP Jo Cox.
Portishead's haunting cover of Abba's SOS was shown on video screens before music began on the Pyramid Stage.
The video closed with Cox's quote: "We have more in common than that which divides us."
Blur's Damon Albarn then took to the stage with members of the Orchestra of Syrian Musicians and began with a reference to the EU referendum, saying he had "a very heavy heart".
"To my mind, democracy has failed us," he said. "Democracy has failed us because it was ill-informed. I just want all of you to know that when you leave here we can change that decision. It is possible."
His comments were met with a resounding round of applause.
He then introduced his ensemble, which comprises members of the Syrian National Orchestra for Arabic Music (SNOAM) who were dispersed by the country's brutal civil war.
Their Arabic-flavoured music highlighted the truly global nature of the festival, which will see sets from Korean funk band Sultans of Disco, Australian psych-rock group Tame Impala and even Basil Brush.
Manchester band James, who were supposed to be the first act performing on Friday, had their set delayed as woodchip was laid in front of the mud-strewn Other Stage.
Glastonbury organiser Michael Eavis appeared on stage to apologise for the delay, telling fans: "Thank you for loving this festival as much as we do. You're the best audience in the world."
As the heavens opened, he then cut a ceremonial red ribbon stretching the length of the stage, allowing James to finally begin 50 minutes late.
The ground remains muddy after torrential rain at the start of the week, but a dry day on Thursday has made conditions more tolerable.
Fans can also catch ZZ Top, Disclosure, Foals and pop star Jess …read more
Source:: BBC Entertainment