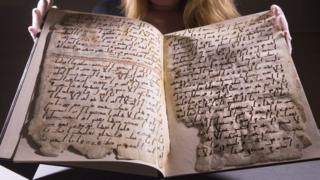 'Global treasure' Koran fragments on display in Birmingham
2 October 2015
From the section Birmingham & Black Country
Image copyright
John James
Image caption
The university will display the manuscript until 25 October at its Edgbaston campus
Fragments of a Koran believed to be one of the oldest ever found have gone on public display in Birmingham.
The University of Birmingham announced its discovery in July and revealed the manuscript is at least 1,370 years old.
Susan Worrall, from the university, described the manuscript as being "a global treasure".
It is on display at the university's Edgbaston campus until 25 October and tickets are free.
'Tears of joy'
"Finding out we had one of the oldest …read more
Source:: BBC world news feed