By Emma Brant
Newsbeat reporter
Google has removed "tens of thousands" of nude pictures stolen from celebrities and published online.
A statement from the web giant said it has deleted photos "within hours" of requests being made and has "closed hundreds of accounts."
It comes after reports Hollywood entertainment lawyer Marty Singer has threatened to sue Google for "violating privacy".
The New York Post published a letter addressed to senior staff at Google.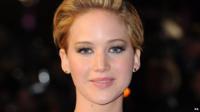 The letter states that Google failed "to act expeditiously, and responsibly to remove the images" and "was perpetuating the despicable conduct of these habitual pervert predators".
Cara Delevingne and Jennifer Lawrence were among the group of stars targeted by cyber thieves who posted their stolen pictures on sites including 4Chan.
Although the women involved in the potential lawsuit have not been named, the legal papers stated: "We are litigation counsel for over a dozen celebrities."
In his letter, Marty Singer said, the female stars would seek damages for Google's "blatantly unethical behaviour" and "knowingly accommodating, facilitating, and perpetuating the unlawful conduct" of the hackers.