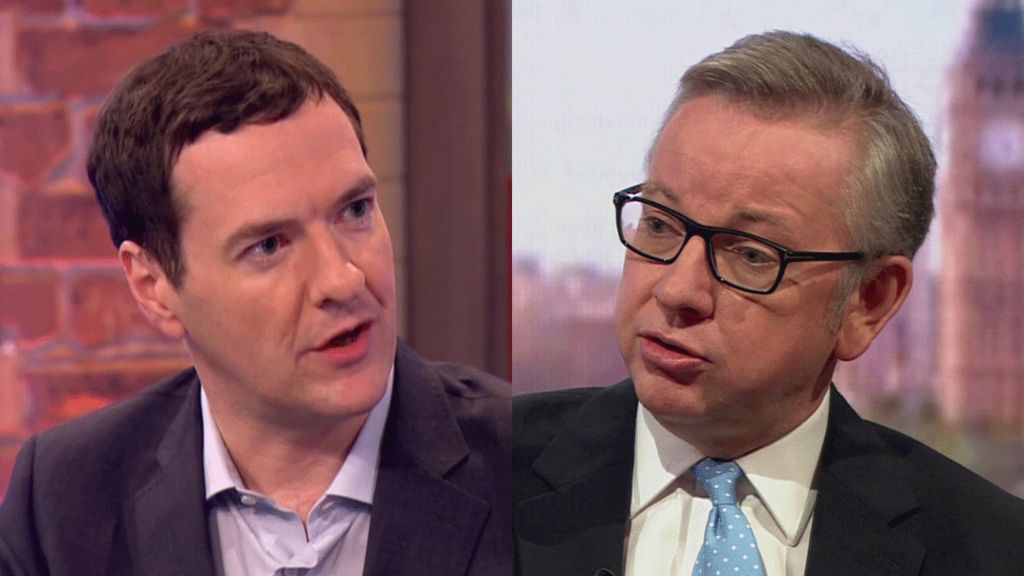 Michael Gove has clashed with cabinet colleague George Osborne after he said the UK could pull out of the EU's single market without damaging trade.
The justice secretary said the UK would not be "punished" for leaving the EU by having tariffs placed on its exports.
He said he could "not imagine" Germany putting up trade barriers which would threaten their own imports into the UK.
But the chancellor said this would be a "catastrophe" in terms of lost jobs and could "wreck the economy".
Follow the latest developments on our live page
Brexit security impact sparks row
The UK's EU vote: All you need to know
The battle has resumed in the EU campaign after Thursday's elections, with just over six weeks to go to the 23 June referendum which will decide whether the UK remains in or leaves the EU.
Attention has focused again on the impact of leaving on the UK's trade with the rest of the EU and what its trading relationships will look like – with Mr Osborne and Mr Gove – key figures on opposing sides of the argument – wading in.
The Remain campaign has argued the UK would have a couple of years to negotiate a totally new relationship with the EU or face potentially punitive tariffs on its goods in the absence of any formal agreement.
But, in an interview on the Andrew Marr show, Mr Gove reiterated claims he first made last month that the UK could have the best of both worlds by being outside the EU's single market.
'Win-win'
While the UK would no longer be bound by EU regulation, legal judgements and free movement rules it would, in reality, still have access to the EU's internal market of 500 million people since free trade across the European continent would not suddenly come …read more
Source:: BBC UK