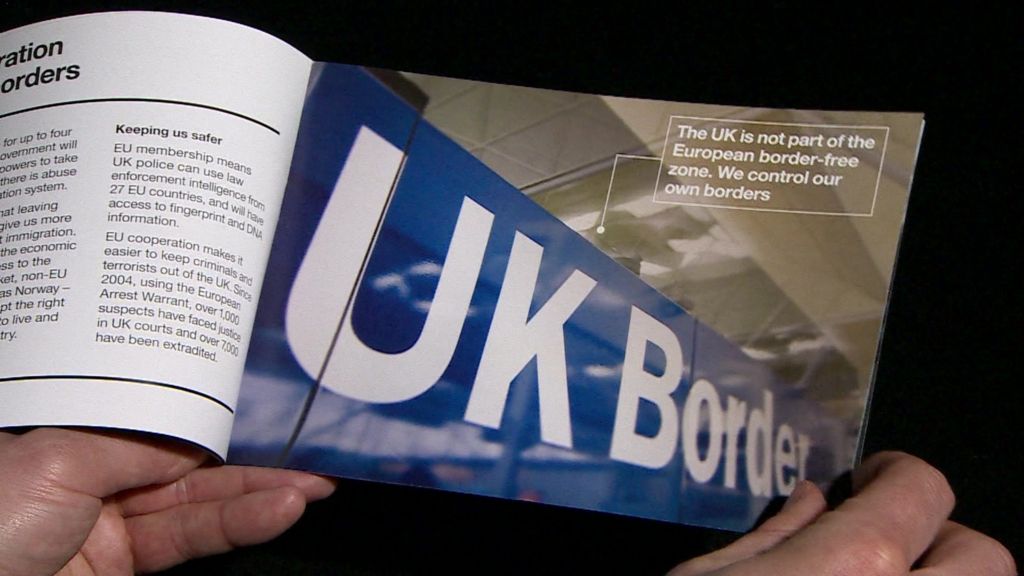 A row has erupted over a £9m campaign to promote Britain's EU membership, with Leave campaigners accusing ministers of misusing public funds.
Cabinet minister Michael Fallon said the leaflets to be sent to every UK home were a "moderate" response to a public demand for information.
But Leave campaigners are angry about what they see as biased propaganda.
Tory MP Liam Fox is to launch an online petition to stop to the leaflets being sent to 27 million homes.
A separate petition launched by the Get Britain Out group has already gained more than 30,000 signatures – it needs 100,00 to be considered for a debate in Parliament.
Eurosceptic MPs have long feared that ministers may try to sway the outcome of the vote by using the full weight of the civil service machine to push the case for staying in.
They forced the government to back down on plans to relax the rules limiting ministerial activity in the immediate run up to the poll – on 23 June – last autumn.
'Not neutral'
Speaking on BBC Radio 4 Today, Labour MP and Leave campaigner Graham Stringer said it was "an outrageous use of taxpayers' money".
He conceded there was a "thirst" among the British public for facts but argued that the leaflets were "very biased", and claimed the government had broken "a pledge" to have any facts independently verified.
"It's clearly unfair," he added, noting that the Leave campaign was restricted to spending £7m during the whole referendum campaign.
Mr Stringer claimed the move was a tactic by the government to divert attention away from Mr Cameron's "immediate problems about his income" – following questions over an investment fund set up by his father, Ian Cameron.
But Defence Secretary Mr Fallon dismissed the accusation, saying the leaflet "has been weeks in preparation".
Defending its contents, he told Today: "The government is not …read more
Source:: BBC UK