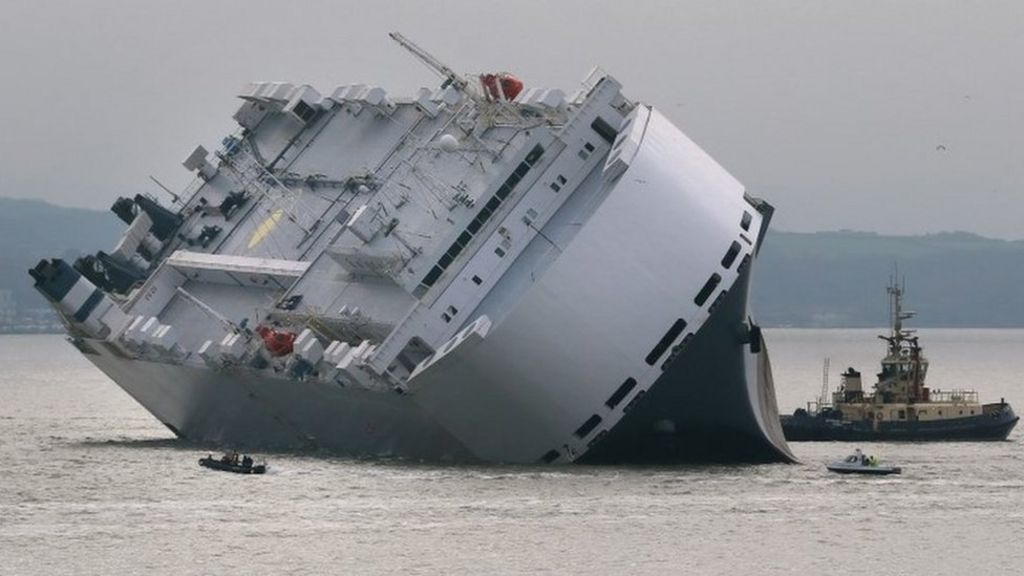 A cargo ship which became stranded in the Solent for 19 days after developing a severe list was "unstable" when it left port, a report says.
The Hoegh Osaka ran aground in January 2015 on its way from Southampton to Bremerhaven carrying high-end cars.
A "significant difference" between the actual and estimated cargo weight left it unstable and contributed to the accident, marine investigators found.
Owner Hoegh Autolines said no one person could be blamed for the error.
"There were a number of circumstances here. We cannot put responsibility on one individual or group," it said in a statement.
The 51,000-tonne vessel, which left Southampton on 3 January 2014 at 20:06 GMT, was "rounding West Bramble buoy in the Solent when it developed a significant starboard list, causing some cargo shift and consequent flooding", the Marine Accident Investigation Branch (MAIB) report said.
Getty Images
The pilot gave the order to "stop engines" at 21:10 GMT and the ship continued to list at an angle of 40 degrees, leaving the rudder and propeller out of the water.
A JCB stone cutter broke free of its lashings and ripped a hole in the hull, causing sea water to enter the ship.
One off-duty crew member broke an arm and a leg as he stumbled and fell 18m down a corridor, hitting the door at the end.
MAIB chief inspector Steve Clinch said: "The MAIB's investigation found that Hoegh Osaka's stability did not meet the minimum international requirements for ships proceeding to sea.
"Crucially, the assumed distribution of ballast on board bore no resemblance to …read more
Source:: BBC world news feed