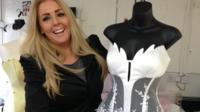 Big Fat Gypsy Wedding designer gets compensation payout
By Tamsyn Kent
Newsbeat reporter
19 September 2014 Last updated at 10:33
One of the former dressmakers on My Big Fat Gypsy Wedding has been awarded more than £8,000 in compensation from her ex-boss.
Leanne Phillips was sacked from the Liverpool travellers' boutique, Nico Bridal Company, in December 2012 after rowing with Thelma Madine.
An employment tribunal found she'd been unfairly dismissed from the job she had held for six years.
"When I was dismissed it was really hard to deal with," said Ms Phillips.