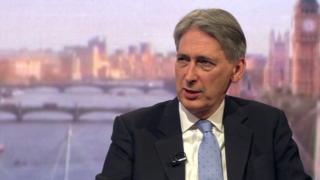 EU talks will go down to the wire, says Philip Hammond
14 February 2016
From the section UK Politics
Image caption
Mr Hammond also accused Russia over its air attacks in Syria
Foreign Secretary Philip Hammond has said Britain needs a "robust deal" for staying in the EU, which will only be decided when heads of government meet on Thursday to finalise an agreement.
"There are still a lot of moving parts in this discussion," Mr Hammond told the Andrew Marr Show.
He said a draft deal contained "unclear language" and "square brackets".
The final agreement should provide "clear winds for Britain on national sovereignty", he said.
Mr Hammond said that in talks over benefits for migrants "we've got a recognition that there can be different treatment [to British nationals] for four years".
In so doing, Britain had …read more
Source:: BBC UK