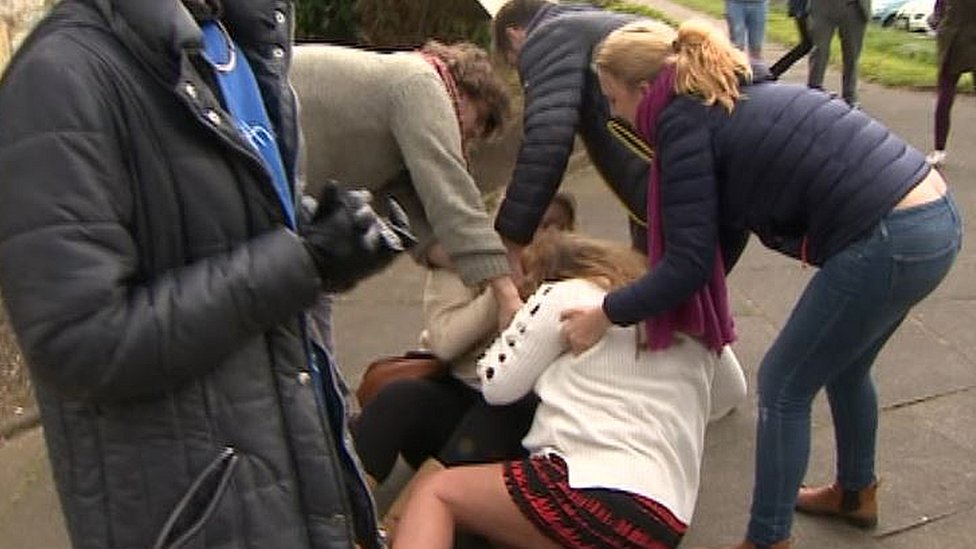 Two women have been arrested after a street fight ahead of a planned speech by UKIP leader Paul Nuttall in Hartlepool.
Mr Nuttall was due to speak at a rally in the town as part of the party's general election campaign.
But police had to be called when the women began fighting outside the venue.
Mr Nuttall, who revealed he would be standing in the Boston and Skegness constituency, said neither of the women were UKIP members.
He blamed the incident on "hard-left activists".
Onlookers and UKIP officials had to break up the fight.
It is not yet known what sparked the altercation, but it is understood some people brought EU flags to the event.
Mr Nuttall said: "You've got some hard-left activists who are causing trouble.
"The fight had absolutely nothing to do with UKIP. None of them were UKIP members.
"I think you will find out on the streets that there is a lot of support for UKIP."
A Cleveland Police spokeswoman said: "We can confirm two females, one aged 62 and the other aged 28, were arrested for assault at the Headland in Hartlepool whilst the area was being visited by UKIP members.
"Inquiries are on-going."
Let's block ads! (Why?)
Source:: BBC world news feed