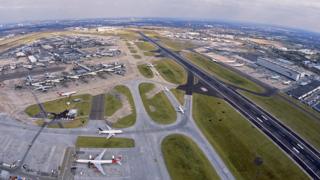 Heathrow Airport decision delayed until next summer
10 December 2015
From the section Business
Image copyright
PA
A decision on whether to expand Heathrow Airport has been delayed until next summer, the government has confirmed.
Transport Secretary Patrick McLoughlin said the government would "continue to work on all shortlisted locations".
A decision had previously been expected by the end of this year.
An independent report on airport expansion by Sir Howard Davies in July backed a plan to build a third runway at Heathrow.
But it added that the new runway should come with severe restrictions to reduce the environmental and noise effects.
Read live updates here
"The case for aviation expansion is clear – but it's vitally important we get the decision right so that it will benefit generations to come," said Mr McLoughlin.
"We will undertake more work on environmental impacts, including air quality, noise and carbon."
Source:: BBC UK