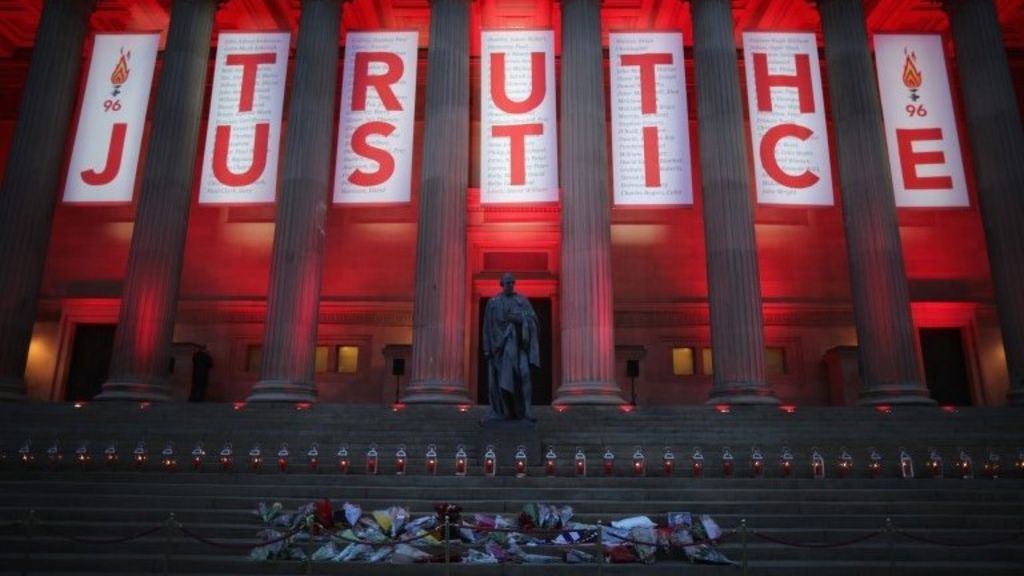 Families of the 96 fans who died in the Hillsborough disaster have declared justice has been done after an inquests jury found they were unlawfully killed.
Lawyers acting on their behalf said the conclusions had "completely vindicated" their 27-year battle for the truth.
Jurors found police failures before and during the 1989 FA Cup semi-final led to the fatal crush.
Two criminal investigations into the disaster and its aftermath are ongoing and could finish by the end of 2016.
A police probe is looking at the lead-up to the crush on the day of the match, while a separate inquiry by the Independent Police Complaints Commission (IPCC) is investigating the allegations of a cover-up afterwards.
Anne Burkett, the mother of Peter, 24, who had travelled to the match with friends, said the story of Hillsborough was one of "human tragedy".
She added: "It is also a story of deceit and lies, of institutional defensiveness defeating truth and justice. It is evidence of a culture of denial within South Yorkshire Police."
How the disaster unfolded
What the police chief knew
Five key mistakes
Families and players react to conclusions
The jury concluded that mistakes by South Yorkshire Police (SYP) and South Yorkshire Ambulance Service on the day had "caused or contributed" to the disaster.
Fans had not contributed to the danger unfolding at the turnstiles at the Leppings Lane end of Sheffield Wednesday's ground on 15 April 1989, the inquests concluded earlier.
Liverpool Walton MP Steve Rotheram, who was at Hillsborough on the day of the disaster, said: "Justice has been served by the verdicts and now it is about accountability."
The focus of the families has now turned to whether criminal prosecutions will follow in light of the evidence that emerged.
Relatives of those who died as a result of the fatal crush at Liverpool's match against Nottingham Forest accused SYP …read more
Source:: BBC world news feed