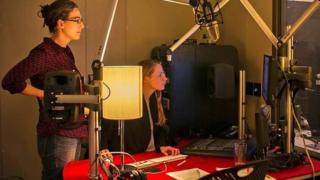 Hit podcast Serial to become TV series
1 October 2015
From the section Entertainment & Arts
Image caption
Journalist Sarah Koenig (L) recorded most of the first series in her basement
Popular true crime podcast Serial is set to become a cable TV series.
The Lego Movie creators Chris Miller and Phil Lord and Fox 21 TV Studios have optioned the rights to the podcast, reports Deadline.
They are developing a series which will chronicle the making of the podcast as it follows a new case.
The first series, a spin-off of NPR's This American Life, followed the murder of Hae Min Lee and the ex-boyfriend jailed for her death.
It became a cultural phenomenon, topping the iTunes chart for several weeks and picking up a Peabody Award.
Co-created and co-produced by Sarah Koenig and Julie Snyder, and hosted by …read more
Source:: BBC Entertainment