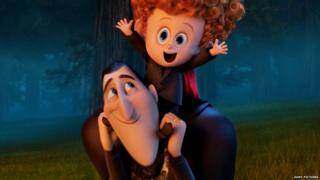 Hotel Transylvania 2 books top slot at UK box office
21 October 2015
From the section Entertainment & Arts
Image copyright
Sony Pictures
Image caption
The film stars Adam Sandler as the voice of Dracula
Animated sequel Hotel Transylvania 2 has topped the UK box office in its first weekend on release.
The 3D fantasy comedy, featuring the voices of Adam Sandler, Andy Samberg and Selena Gomez, earned more than £6.3m over the weekend.
Suffragette, which opened the London Film Festival, took second place, while fantasy Pan rounded out the top three.
Gothic horror Crimson Peak, at number five, and The Lobster at nine were the top 10's other new entries.
When it came out in …read more
Source:: BBC Entertainment