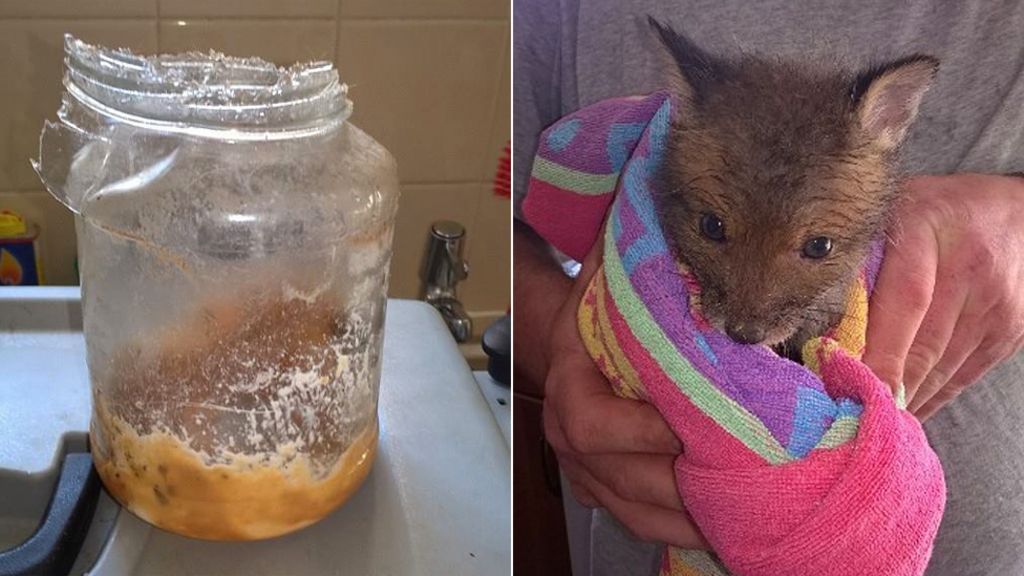 A fox cub that got its head stuck in a peanut butter jar was found "near to death" in a graveyard in Wiltshire.
The three-week old female cub – nicknamed peanut – was heard banging its head against a gravestone at Salisbury Crematorium.
Kevin Drew from Creatures in Crisis used wire cutters to free her from the plastic jar.
He said: "It was on pretty tight but there must have been just enough oxygen in there for it."
It is thought the fox was trying to lick the last of the peanut butter from the discarded jar when it got stuck.
'On so tight'
"We had a call about an animal banging around at the crematorium – they thought it was a kitten banging its head against a gravestone," said Mr Drew.
"You couldn't get your finger between the jar and the animal's neck it was on so tight but we picked it up and brought it home and managed to cut the jar off."
Described as being "very subdued" on its release, Mr Drew said the cub was recovering well.
"It's doing fine now but it will be another three months before it's released," he said.
Let's block ads! (Why?)
Source:: BBC world news feed