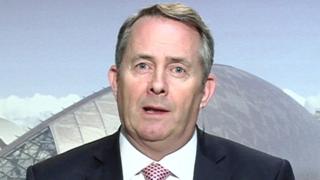 I'll vote to leave the EU, says former minister Liam Fox
20 December 2015
From the section UK Politics
Former defence secretary Liam Fox has said he will vote for the UK to leave the European Union.
He urged David Cameron "to end the pretence" of EU renegotiation and back an "out" vote at the referendum.
Dr Fox also said cabinet members should be able to campaign for an EU exit without having to resign – despite disagreeing with the prime minister.
Mr Cameron has promised to hold an in-out referendum on EU membership before the end of 2017.
The prime minister said on Friday that the UK would "fundamentally change" its relationship with the EU in 2016, following talks with fellow leaders in Brussels.
He is demanding change on four issues, including stopping migrants from the EU from receiving in-work benefits in the UK until they have been in the country for four years.
Eurosceptics say his demands are trivial and will not have any impact on levels of migration to the UK from elsewhere in Europe.
'Matter of conscience'
Dr Fox told the Sunday Times the sight of Mr Cameron taking "the political begging bowl around European capitals" to secure only minor reforms should be enough to persuade people to back a …read more
Source:: BBC UK