24 September 2014

From the section

Music
Jason Orange has announced he's left Take That and will not be recording a new album with the band.
In a statement, he said there had been "no fallings out" and had "spent some of the best years" of his life with them.
However, he did not want to commit to making and promoting a new record.
The band formed in 1990, split up in 1996 and then reformed for a successful comeback in 2005.
Orange's band-mates, Gary Barlow, Howard Donald and Mark Owen, said his departure was "a huge loss".
His statement read: "I want to start by saying how proud I am of what we have achieved together over the years.
"However, at a band meeting last week I confirmed to Mark, Gary and Howard that I do not wish to commit to recording and promoting a new album."
He's also thanked his fans, calling them "beautiful and ever-loyal".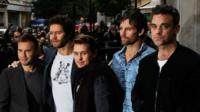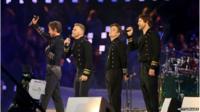 A joint statement from the remaining band-mates said: "We first became aware of Jason's reservations a couple of years ago but had hoped that by giving him the desired time and space he may begin to feel differently.
"This has not been the case and we now have to accept and fully respect his decision which we know hasn't been an easy one."
After they got back together, the band …read more
Source:: BBC Entertainment