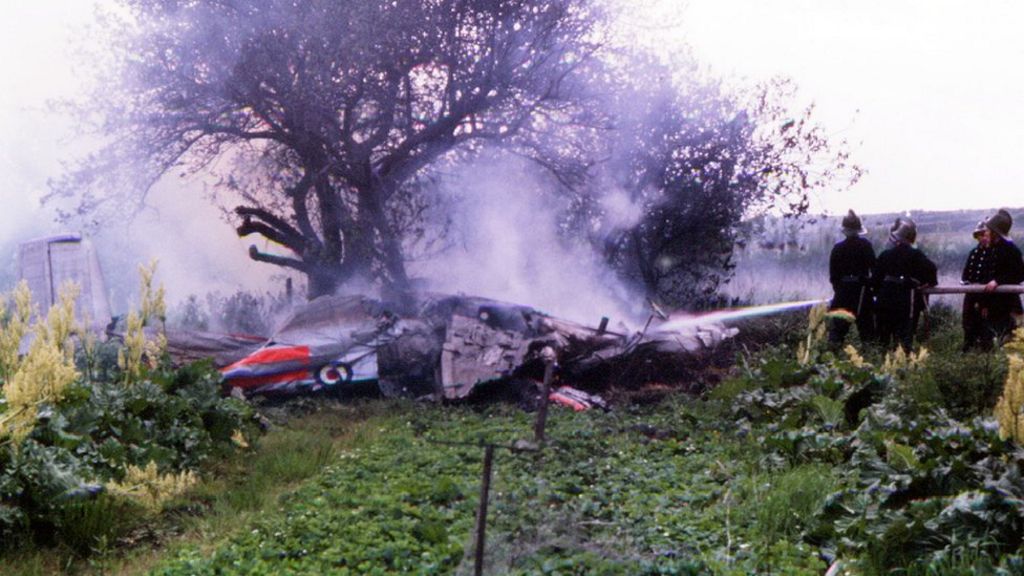 The 50th anniversary of when two aerobatic jets collided over a village but did not even cause any serious injuries is being marked.
Debris was showered over a wide area in Woodborough, Nottinghamshire on 26 May, 1966, when the Provost planes crashed.
"It was a miracle no-one was killed," said David Rose, talking of the crash, which happened as children were walking to school.
"One pilot [who'd ejected, floated down] a few yards away from me."
Mr Rose said he asked the pilot if he "was okay and took him in my Land Rover to get help".
Stung by nettles
John Hoyland, of history group Woodborough Heritage, said it was amazing debris did not "hit any people".
"It would have been spread from the butcher's shop to the top of Roe Lane and as far as Foxwood House which is an area of about half a mile," he said.
One news report of the day said the only casualty was a man who was stung by nettles when he dove into a ditch to avoid some falling debris.
"[But] it was total chaos. I could see debris flying everywhere," another eyewitness, Mike Batt, remembered.
"It was scattered all over the village.
"The schoolchildren were just walking to school at the time, as everyone walked in those days, but none of them were hurt."
A Daily Mail article reported that four aircraft were in the air in total, two of which "brushed while in formation" and crashed.
"The two instructors and a student pilot parachuted to safety," it noted.
Margaret Freeman, who was 23 at the time, was working at the post office on the village's main street when a customer ran in saying a plane was about to crash.
"One of the pilots parachuted from the plane and landed near the Four Bells and the other one landed near Mrs Russell's house on Main …read more
Source:: BBC world news feed