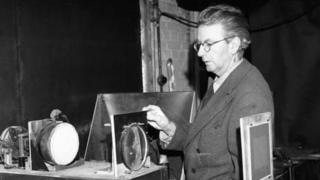 John Logie Baird recording saved for the nation
29 September 2015
From the section Entertainment & Arts
Image copyright
Topical Press Agency
Image caption
John Logie Baird was an engineering student at the University of Glasgow
An anonymous donor with links to John Logie Baird's home town has stepped in to ensure a historic recording of his first transmission of trans-Atlantic TV pictures will stay in Scotland.
The 1927 footage, on a phonovision shellac disc, is the world's oldest surviving 78rpm piece of video.
It features Logie Baird's famous ventriloquist dummy Stookie Bill, which he used when developing his invention.
The recording will now be stored at Glasgow University.
It was part of a …read more
Source:: BBC Entertainment