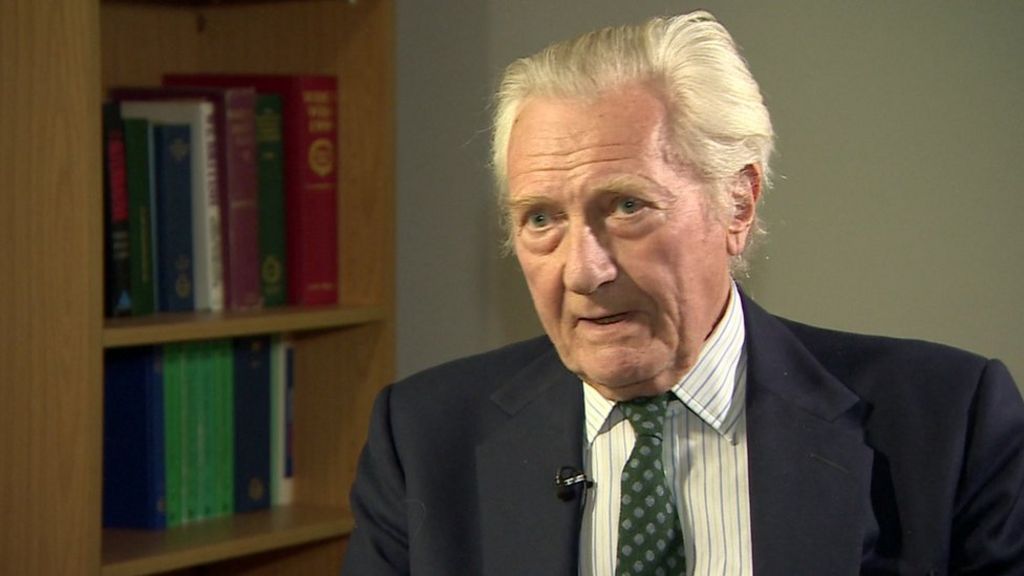 Lord Heseltine has said he would be "very surprised" if Boris Johnson became prime minister after his "preposterous, obscene" remarks during the European Union referendum campaign.
The ex-deputy prime minister, who is campaigning for Remain, said he feared Mr Johnson's "judgement is going".
It marked a further escalation of a war of words between Tories over the EU.
Mr Johnson earlier said it was a "bit too much" for David Cameron to say so-called IS would welcome an Out vote.
And in response to Lord Heseltine's comments a spokesman for Mr Johnson said it was "the arguments that matter".
In other EU developments ahead of the 23 June referendum:
UKIP leader Nigel Farage raises the prospect of second referendum
Mr Johnson accuses David Cameron of a "stitch-up" over business backing for the EU
Shadow chancellor John McDonnell appeals to Labour voters to make a positive case to remain in EU
Energy minister Andrea Leadsom says leaving the EU will "help keep bills down"
The European Council president says the only alternative to the EU is "chaos"
Follow the latest updates on the EU referendum
On Sunday Mr Johnson, the former London mayor, compared the EU's aims in creating a "single authority" in Europe with Napoleon's and Hitler's.
He also suggested on Tuesday that David Cameron was "colluding" with business in the run-up to the 23 June referendum after a leaked letter from the boss of outsourcing firm Serco to the prime minister raised the question of business backing for the UK's EU membership as well as the further privatisation of the prison system.
Speaking to the BBC's political editor Laura Kuenssberg, Lord Heseltine said the "strain" of the referendum campaign was "beginning to tell" on Mr Johnson and he had begun to make "preposterous obscene political remarks".
"He is behaving now irresponsibly, recklessly and I fear that his judgement is …read more
Source:: BBC UK