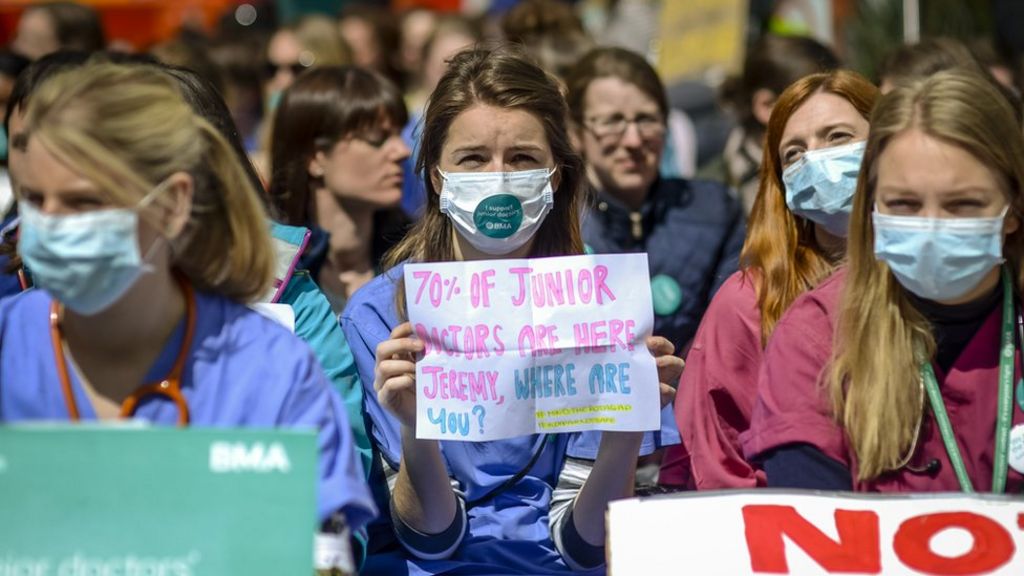 Fresh talks aimed at ending the dispute over a new contract for junior doctors in England will get under way later.
The two sides will attempt to resolve outstanding differences, which include Saturday pay and unsocial hours.
The government has put on hold, for five days, its plans to impose the contract.
The British Medical Association (BMA) has suspended its threat of further industrial action while the talks last.
This latest round of talks will be mediated once again by conciliation service Acas.
Ministers drew up plans to change the contract in 2012, but talks broke down in 2014.
Under the terms of the new contract, basic pay is to be increased by 13.5% on average, but other elements of the pay package are to be curbed, including what constitutes unsociable hours.
Day hours on a Saturday will be paid at a normal rate, while extra premiums that are being offered for the rest of the weekend are lower than what is currently paid.
As a result of the dispute between the government and the BMA, there were four strikes by junior doctors in England affecting routine – but not urgent care – between January and early April.
Last week, there were two one-day strikes affecting all forms of care, including emergencies – the first such action in the history of the NHS.
'Weekend effect'
Meanwhile, researchers from Oxford University have said earlier findings backing the government's push for a seven-day NHS in England are based on flawed data.
One of the government's key arguments behind the push for a seven-day NHS in England – and a new contract for junior doctors – has been patient safety.
The new Oxford University paper concludes that hospital data suggesting a "weekend effect", where death rates are higher for those admitted over the weekend period, are deeply flawed.
It focuses on the Oxford Vascular Study …read more
Source:: BBC world news feed