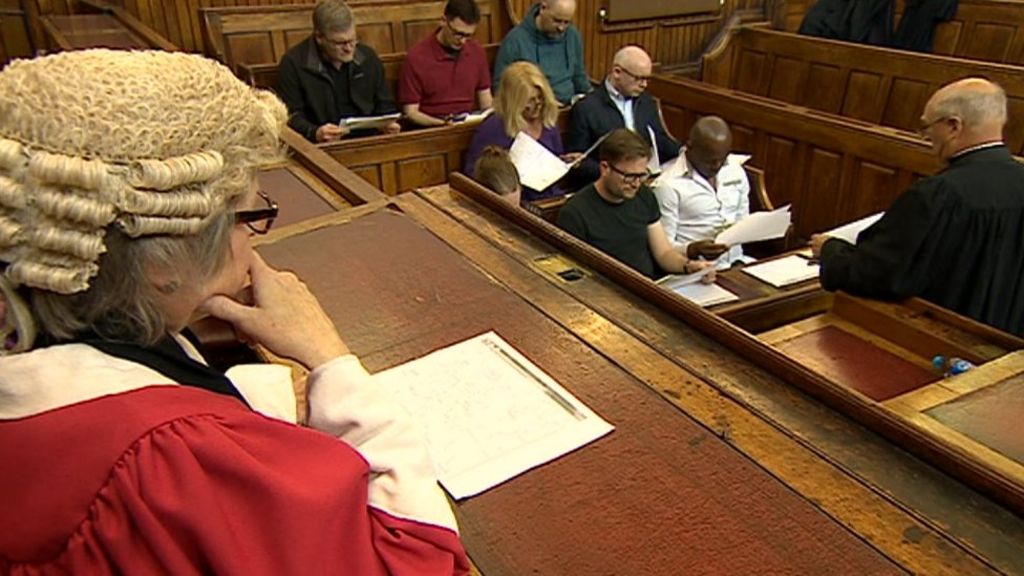 Virtual reality technology used in the gaming industry could be adapted to recreate crime scenes for juries, researchers have claimed.
A Staffordshire University project has experimented with technology and techniques to "transport" jurors to virtual crime scenes.
Associate Prof of Forensics, Dr Caroline Sturdy Colls, said it was the first project of its kind in Europe.
Staffordshire Police said it was "a concept" that could become significant.
The project, which received a European Commission research grant of about £140,000, uses green screens, the latest virtual reality headsets and technology from gaming, engineering and computing.
Dr Sturdy Colls said: "What we want to do is to come up with the best solution that helps the criminal justice system – help the police in their detection and recording of crime and then to help jurors in court to understand those crimes better that they ever did before."
Sian Grzeszczyk, BBC Staffordshire reporter tried out the technology
The project is experimenting with a range of technologies from laser scanning to drones, all in a bid revolutionise the way crime scenes are recorded.
Using the headset, in one of the scenarios I can walk around the "crime scene" and it feels incredibly real even though I know it's not.
If a barrister could do this, he or she could easily show the jury the scene of the crime without any confusion. It's so detailed. It's not like putting on some 3D glasses – this is another level.
It might look expensive but the headset costs £700, which Staffordshire Police said is affordable.
However, the wheels of justice are slow and it is not clear how long it would take before we see this sort of kit could be adopted by the courts.
Simon Tweats, head of justice services at Staffordshire Police, said it could make a …read more
Source:: BBC world news feed