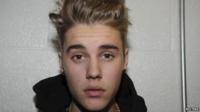 Justin Bieber charged with assault and dangerous driving
By Chris Hemmings
Newsbeat reporter
2 September 2014 Last updated at 17:41
Justin Bieber has been charged with assault and dangerous driving after crashing his quad bike into a minivan.
He was arrested near his hometown of Stratford, Ontario, after apparently getting into a fight with the other driver.
Ontario Provincial Police confirmed they were called to the scene to investigate and then made the arrest.
Police said they then released him on what's called a "promise to appear" in court on 29 September.
According to a police statement, an investigation "revealed that after colliding, the driver of the all terrain vehicle and an occupant of the minivan engaged in a physical altercation".
There were no reported injuries from the collision, but law enforcement sources wouldn't say whether injuries had resulted from the fight.
Justin Bieber's lawyer, …read more
Source:: BBC Entertainment