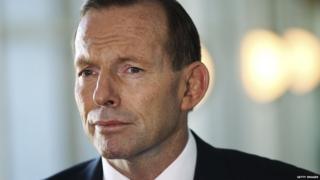 Removing Rhodes statue 'moral vanity', says Tony Abbott
24 December 2015
From the section Australia
Image copyright
Getty Images
Image caption
Tony Abbott wants an Oxford college to keep its controversial statue of colonialist Cecil Rhodes
Oxford University should not remove a controversial statue of Cecil Rhodes from Oriel College, former Australian Prime Minister Tony Abbott has said.
Students say the 19th Century colonialist's views are against the "inclusive culture" at the university.
Oriel College, which Rhodes attended, has agreed to remove a commemorative plaque in response to the campaign.
Mr Abbott, a Rhodes Scholar, said removing the statue would "substitute moral vanity for fair-minded enquiry".
Oxford University's Rhodes scholarship is funded thanks to a legacy …read more
Source:: BBC UK