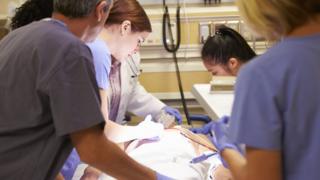 Osborne's NHS cash pledge 'has unravelled', says Labour
By Hugh Pym
Health editor
23 December 2015
From the section Health
Image copyright
Thinkstock
The government's promise of a £3.8bn financial boost for the NHS in England next year has "unravelled", the Labour Party has said.
The above-inflation cash injection represents a rise of nearly 4% on NHS England's £101bn front-line budget.
But Labour said the money would be swallowed up covering hospital deficits – which are expected to reach £2bn this year – and higher pension costs.
The government said Labour's assumptions were wrong.
"We're helping hospitals improve finances with tough controls on agency staff and management consultants and introducing some cost-saving measures identified by the government efficiency adviser Lord Carter," the Department of Health added.
Chancellor George Osborne announced the additional £3.8bn in real terms on top of NHS England's £100bn-a-year budget …read more
Source:: BBC UK