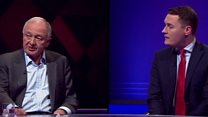 The Chief Rabbi has accused Labour of "failing the Jewish community" by not expelling Ken Livingstone.
The former London mayor was suspended from the party for two years on Tuesday for comments he made about Adolf Hitler and Zionism.
Ephraim Mirvis said the decision "yet again failed to show" that the party is "sufficiently serious about tackling the scourge of anti-Semitism".
Mr Livingstone said he will launch a campaign to overturn the suspension.
Livingstone suspended again by Labour
The row first erupted in April last year when Mr Livingstone was defending Bradford West MP Naz Shah over claims she had made anti-Semitic social media posts.
He said: "When Hitler won his election in 1932, his policy then was that Jews should be moved to Israel. He was supporting Zionism before he went mad and ended up killing six million Jews."
He has repeatedly defended his version of events, saying there had been "real collaboration" between Nazis and Zionists before World War Two.
Anti-Semitism and ZionismAnti-Semitism is "hostility and prejudice directed against Jewish people" (OED)Zionism refers to the movement to create a Jewish state in the Middle East, corresponding to the historic land of Israel – anti-Zionism opposes thatSome say "Zionist" can be used as a coded attack on Jews, while others say the Israeli government and its supporters are deliberately confusing anti-Zionism with anti-Semitism to avoid criticism
What's the difference between anti-Semitism and anti-Zionism?
An internal disciplinary panel upheld three charges against Mr Livingstone for breaching party rules, including rule 2.1.8, which says that "no member of the party shall engage in conduct which in the opinion of the NEC is prejudicial, or in any act which in the opinion of the NEC is grossly detrimental to the party".
But rather than expelling him as a party member, he was suspended from standing for office or representing the party at any level for two years – which will expire in April 2018, taking into account the suspension he has already served.
Media playback is unsupported on your device
Rabbi Mirvis released a statement condemning the decision by the panel.
"This was a chance for the Labour Party to show that it would not tolerate wilful and unapologetic baiting of the Jewish community, by shamefully using the Holocaust as a tool with which to inflict the maximum amount of offence," he said.
"Worryingly, the party has yet again failed to show that it is sufficiently serious about tackling the …read more
Source:: BBC UK