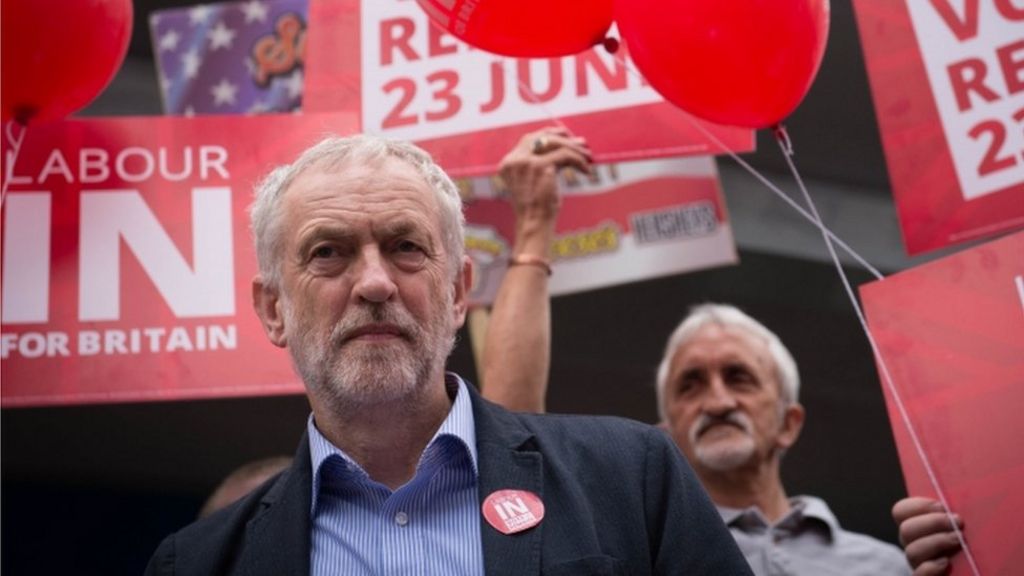 The Remain campaign could lose the EU referendum if Labour voters do not get more engaged in the debate, the new leader of the GMB union has warned.
In a BBC interview, Tim Roache urged Labour leader Jeremy Corbyn to do more to make the case for EU membership.
It comes ahead of a speech by Mr Corbyn in which he will say workers' rights are best protected by being in the EU.
But Vote Leave chairwoman and Labour MP Gisela Stuart has said workers' rights were "hard won" in the UK, not Europe.
Tory 'bunfight'
In other development:
Vote Leave's Liam Fox is to say that young people will find it harder to get on the housing ladder if the UK stays in the EU
Spanish Prime Minister Mariano Rajoy warned the consequences of an exit vote would be "very negative for British citizens"
Chancellor George Osborne and his Labour predecessor Alistair Darling have written an open letter to Vote Leave campaigners accusing them of coming up with "uncosted and unworkable proposals"
There are just weeks to go until the UK decides on its future in the European Union, in the in-out referendum on 23 June.
The Remain campaign believes that securing the support of Labour voters will be vital to winning the referendum.
Work and pay
The debate
Unemployment is over 10% in the EU, almost double the rate in the UK
Some workers' rights are guaranteed by EU laws but tax rates, benefits and the minimum wage are down to UK government decisions
Leave
Less regulation in the workplace would create more jobs
Maternity leave and holiday pay would only change if Britain decided to change …read more
Source:: BBC UK