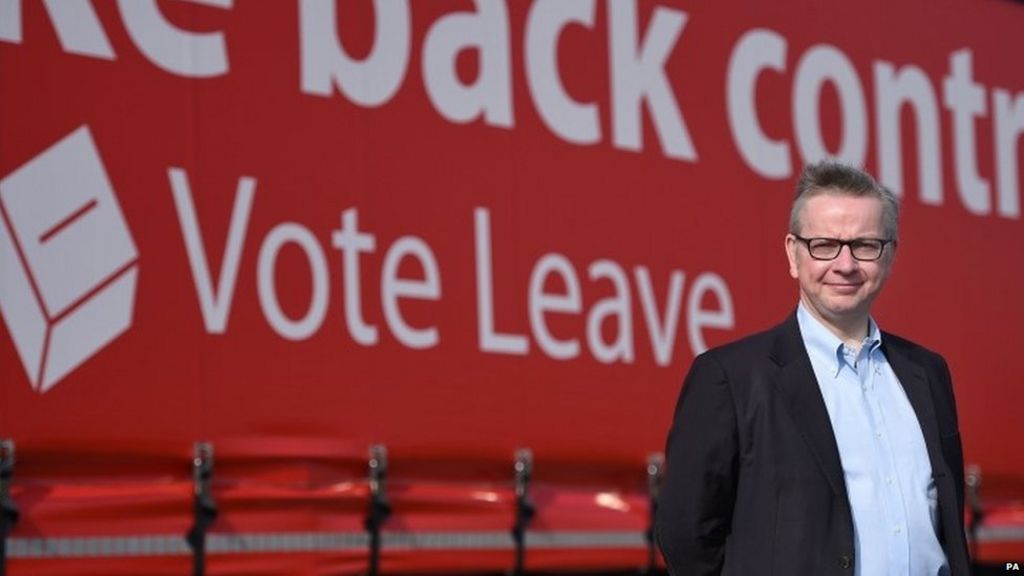 Quitting the EU would be an act of liberation and patriotic renewal, Michael Gove is to say, as the war of the words in the debate intensifies.
The justice secretary, who backs EU exit, will accuse those who want to stay of treating voters "like children who can be frightened into obedience".
It follows Treasury forecasts an exit could cost households £4,300 a year.
Mr Gove will warn of a further loss of powers to Europe in areas such as tax and asylum if the UK stays in the EU.
He is expected to use a speech in London later to set out his vision of what the country would look like in the event of a Leave vote.
'Empowering moment'
He will describe a vote to leave as a "galvanising, liberating, empowering moment of patriotic renewal".
In contrast, he will suggest a vote to remain would effectively maroon the UK within the EU, where it would have to accept further political and financial integration.
The Leave campaign's backers include Mayor of London Boris Johnson and UKIP leader Nigel Farage.
In the run-up to the 23 June referendum, it is making the case for what it says is the greater democratic control and enhanced sovereignty that leaving the EU would bring.
In a show of unity on the Leave side, Mr Farage shared a platform with Conservative cabinet minister Chris Grayling at a Grassroots Out rally on Monday evening.
Mr Grayling urged Leave campaigners to put aside party differences and show "common cause".
The Remain campaign, which is backed by the government, is continuing to focus on the economic risks of leaving, in what BBC political editor Laura Kuenssberg said was a no holds-barred effort to appeal to the wallets of undecided voters.
Analysis by the Treasury released on Monday, warning that the UK economy could be 6% smaller by …read more
Source:: BBC UK