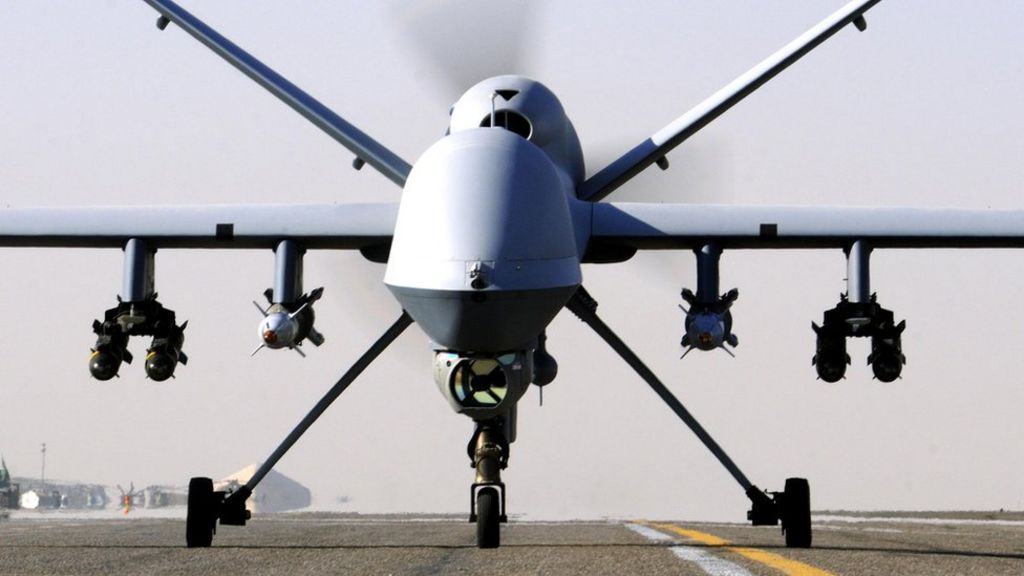 The legal case for using drone strikes outside of armed conflict needs "urgent clarification" from ministers, a cross-party parliamentary committee has said.
The government insists it does not have a "targeted killing" policy, but the UK was clearly willing to use lethal force overseas for counter-terrorism, the Joint Committee on Human Rights said.
It follows the killing of a UK citizen in Syria last year by an RAF drone.
The government says it takes "lawful action" over direct threats to the UK.
Reyaad Khan, a British member of the so-called Islamic State group, was killed by an RAF drone in Syria last August.
When is it legal to kill your own citizens?
Drone strikes: Do they actually work?
'Self-defence'
Informing parliament of the death, Prime Minister David Cameron said the 21-year-old from Cardiff had been plotting "barbaric" attacks on UK soil.
The British military had not been authorised by parliament to engage in military action inside Syria at that stage – but the strike was justified as an "act of self-defence".
However, later statements justified the killing in the context of the armed conflict in Iraq.
The committee said it accepted the latter position was correct.
But there were contradictions and inconsistencies in the government's explanation of its policy on drone strikes, it said.
"Although the government says that it does not have a 'targeted killing' policy, it is clear that it does have a policy to use lethal force abroad outside armed conflict for counter-terrorism purposes," the parliamentarians concluded.
"Certain aspects of the government's view of the legal basis for its policy require urgent clarification," they said.
The MPs and peers added that international law permitting self-defence did not extend to using force "pre-emptively against a threat which is more remote, such as plans which have been merely discussed but which lack the necessary intent or capability to make them imminent".
'Confused …read more
Source:: BBC UK