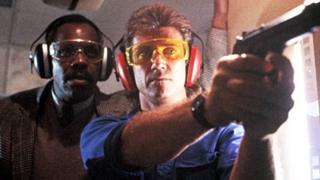 Lethal Weapon set for TV remake
4 October 2015
From the section Entertainment & Arts
Image copyright
Everett/Rex Shutterstock
Lethal Weapon will be the latest film to be remade for the small screen after the Fox network decided to turn it into a TV show.
The first Lethal Weapon film, which came out in 1987, starred Danny Glover as a veteran police officer and Mel Gibson as his volatile new partner.
It was a hit and went on to spawn three sequels over the subsequent 11 years.
Lethal Weapon joins films like Rush Hour, Uncle Buck, Training Day and Minority Report in being remade for TV.
According to reports, Fox has signed up to make a "put pilot" of Lethal Weapon – the industry term for a pilot episode that is seen as being virtually guaranteed to become a full series.
It will follow a similar storyline to the film, although Gibson and Glover will not reprise their original roles.
The show will be written by Matt Miller, …read more
Source:: BBC Entertainment