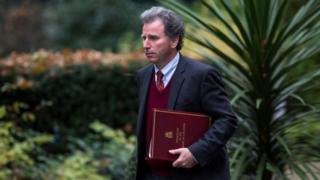 Letwin apologises over 1985 Broadwater Farm riot memo
30 December 2015
From the section UK Politics
Image copyright
Getty Images
Image caption
Oliver Letwin is one of David Cameron's longest-serving ministers
David Cameron's policy chief has apologised "unreservedly" for any offence caused by remarks he made about black people days after the 1985 Broadwater Farm riot.
In a newly-released memo, Oliver Letwin – then adviser to Margaret Thatcher – blamed unrest on "bad moral attitudes".
He dismissed plans to encourage black entrepreneurs, saying they would set up in the "disco and drug trade".
Mr Letwin said parts of the private memo were "badly worded and wrong".
A government source told the BBC it was a …read more
Source:: BBC UK