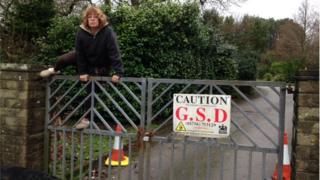 Mourners scale gates to enter locked St Ives cemetery
6 January 2016
From the section Cornwall
Image copyright
Martina Anscombe
Image caption
One mourner, Martina Anscombe, climbed the cemetery's locked gates
"Distraught" mourners were forced to scale the gates of a graveyard to lay flowers after they were left locked .
Twenty people were shut out of Longstone Cemetery in St Ives before being let in at lunchtime on Christmas Day, with some stuck outside for hours.
Cormac, which maintains the cemetery for the town council, said its staff normally open the gates when they clean the toilets each morning.
The firm said unlocking the gates was "missed" because the toilets were shut.
Martina Anscombe …read more
Source:: BBC world news feed