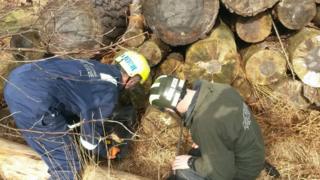 Log-jammed dog 'barked up wrong tree' in New Forest
12 February 2016
From the section Hampshire & Isle of Wight
Image copyright
Hampshire Fire and Rescue
Image caption
Firemen and animal rescue specialists teamed up to free Bernie
An inquisitive dog had to be rescued with the help of a tractor after it got stuck underneath a large stack of logs.
The hapless hound, called Bernie, became trapped at the Hawkhill Inclosure in Hampshire's New Forest.
But with the assistance of the Forestry Commission's tractor, seven-year-old Bernie was eventually freed unharmed and returned to his owner.
Firefighters who attended the scene, near Beaulieu, on Thursday afternoon …read more
Source:: BBC world news feed