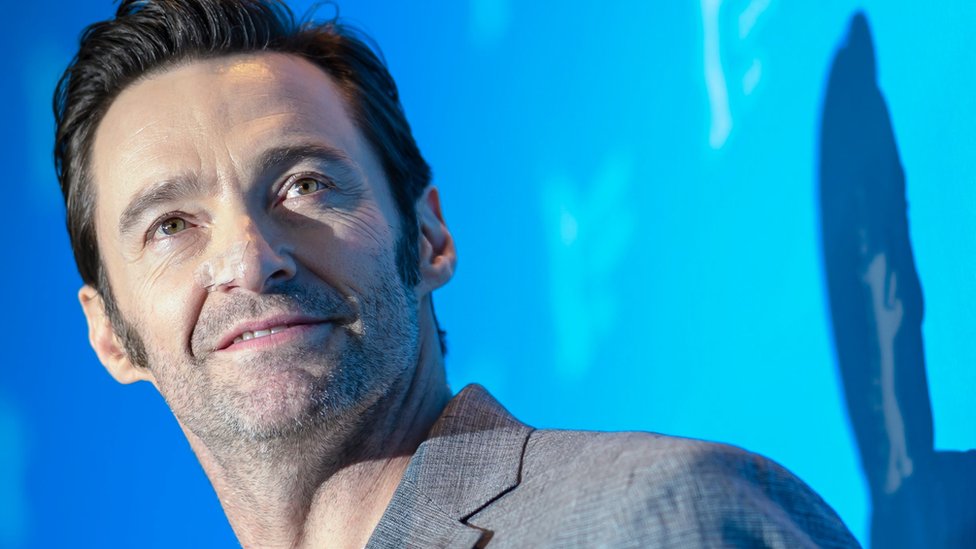 It's been almost 20 years after he last appeared on the London stage, and now Hugh Jackman says he hopes to return to the West End.
The Logan star was nominated for an Olivier theatre award in 1998 for his UK stage debut in Trevor Nunn's revival of Oklahoma! before his film career took off.
But he told the BBC there was another reason why he had not returned sooner.
"It's an issue of children – I love being here but I have kids at school. At some point in the future I'd love to come to the West End," he said.
"Coming here working for Trevor Nunn at the National Theatre, that was a real turning point for me.
"[My children] are 16 and 11 and they're at the age where they'd love me to go away because I'm kind of a strict guy at home, but I'd love to do that again some time."
Jackman has performed a number of times on New York's Broadway including musical The Boy From Oz in 2003, A Steady Rain opposite Daniel Craig in 2009 and his one-man musical show in 2011.
The star is now about to hang up his claws as X-Men character Logan – better known as Wolverine – after 17 years in the role.
The latest film gives a different take on the conventional comic book movie, showing what happens to superheroes in the winter of their lives.
"I was very clear this was the last one when we were making it – I don't think I could've made this movie unless I knew that," he says.
"And I don't think I was fully OK with it until I saw it, because even though I had a good feeling, you never know until you see the final product if it's something you know you can sleep with for the rest of your life."
The Oscar-nominated actor also insists he will never return to the role, even for cameos or spin-off films.
"I'm going home – it's been a great party, thank you," he says. "I'm putting my pyjamas on and going to bed."
But Jackman does have some words of advice for whoever takes on the Wolverine next.
"I remember running into Dougray Scott who originally had this role, but couldn't do it because he was on another film that ran over, so I got the role.
"I met him and thought this is going to be awkward, but he …read more
Source:: BBC Entertainment